Effective, accurate, and comprehensive account-based marketing (ABM) Persona is an innovative approach that helps marketers connect with their customers more personally to focus on individual accounts. It's an effective way to understand the target audience and build relationships.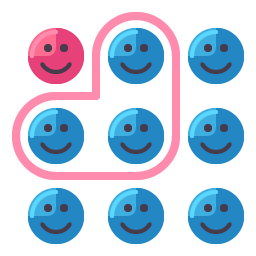 In today's digital world, marketing is all about the customer. In order to be successful in this new landscape, marketers need to understand their customers and know how they behave. Account-based marketing (ABM) has emerged as a way for marketers to do just that by analysing customer behaviour and preferences before targeting them with ads or messages. The success of ABM relies on having an account-based marketing persona: a representation of your target audience that includes key demographic information such as age, gender, and location, as well as behavioural data like what content they consume online and what products they buy offline. It is important for start-ups and small businesses who don't have the resources of larger companies to invest in knowledge about their customers so that they can stay relevant and find success in their campaigns.
The Origins of Account-based Marketing
Account-based marketing began as a response to the challenges faced by marketers who were forced to focus on mass audiences rather than individuals with highly specific needs and interests. As we all know, people are unpredictable, and segments can't be expected to behave and respond predictably like they would in a lab setting. However, ABM techniques can provide valuable qualitative insights that feed into how brands market themselves across different platforms. One key insight that has been around since the advent of television advertising yet still holds true today is that you will reach more people if your ad appears during prime time shows watched by millions of viewers as opposed to ads targeted at very specific audiences during niche TV shows. The former is better for building awareness, and the latter is better for driving sales.
The Two Types of Account-based Marketing
There are two types of account-based marketing: (1) an account-specific strategy focused on obtaining business from a select group of accounts and (2) a customer relationship management (CRM)-a driven approach focused on maintaining great relationships with current customers who have already given their businesses to you. Both approaches can be successful, but most marketers still think ABM is looking only at the best fit within the category and not treating all potential customers equally. If your company wants to invest in ABM, it needs to start with figuring out which type of person makes up its target audience.
Using Persona Data for Account-based Marketing Success
The first step in creating an effective account-based marketing approach is to understand your key persona metrics so you can focus your efforts on the people who are best suited to buy from you. This includes understanding purchase preferences, online engagement habits, and other factors unique to each target segment or persona. Many marketers today have access to data that tells them what websites their customers visit, which customer demographics they belong to, where they live geographically, how old they are, whether or not they're married with kids—and the list goes on. Armed with this information about your targets' characteristics and attributes, as well as their specific needs and interests, you are ready to begin marketing more effectively to them and start creating ABM campaigns that will lead to sales and ROI.
Some of the areas where marketers should focus their time and energy when developing account-based marketing strategies include
Competitive activities: How do your customers' competitors target them? What are other companies doing well with these targets? This type of information can help you stay relevant, improve decision making, develop content for landing pages and social platforms, and perform competitor research.
Industry trends: What major industry events are coming up soon that your customers may be interested in attending or at which they would like to increase their visibility? How will changes in the industry affect product use or make it more difficult for them to get the job done (e.g. if oil prices spike)?
Interests: What are your customers' major interests? What do they like reading, watching, and buying? Where do they spend their free time (i.e., which sports or hobbies do they enjoy participating in)? Knowing this information will help you develop appropriate landing pages that resonate with them, create engaging content for social media channels, and plan events that give your customers opportunities to get to know each other while networking around common interests.
Thought leadership: How influential are the people within your customer's company or industry? Who are the thought leaders at their organisation who can influence decision making regarding products purchased by similar organisations? These influencers should be treated as part of your target audience because you want their opinion of your company and products to carry weight.
Requirements: What specific problems does your customer need to solve? With which other departments do these individuals work, and what are the biggest challenges they face? Looking at it from a different perspective, who would benefit most if your customer's business succeeds? All these factors can help you determine what features and benefits will be most relevant for you and your messaging when talking about product alternatives with key decision-makers.

What tools/solutions are competitors offering? How much budget is dedicated to ABM in their organisation versus other marketing channels (e.g., TV ads)? Marketers should know how much money their customers are willing or able to spend on new products compared to spending money on what they already own.

Looking at it from a different perspective, who would benefit most if your customer's business succeeds? All these factors can help you determine what features and benefits will be most relevant for you and your messaging when talking about product alternatives with key decision-makers.

When all this information is available to marketers and salespeople, the next step is creating appropriate account-based marketing campaigns. However, not every target within an account needs to receive the same information or offers in order to increase engagement rates across your entire prospect list. It's important to remember that people are individuals with unique experiences, perspectives, preferences, and habits even though they are part of an organisation or company group. By segmenting them into specific personas based on the insights you collect about them, you can better understand their individual needs and interests.

Once you have identified your persona profiles along with a list of individuals within each account who should receive targeted messages, you can create custom content for each type of person to make your campaigns more effective. This approach will also increase the conversion rates for landing pages to which these prospects are redirected. It will be clear that they are receiving information relevant specifically to them instead of generic offers or messages from other sources. It's important to offer personalised messaging based on what is relevant and provide this type of information in a personalised manner by aligning the look, feel, and tone with the customer so it appears as if they've received it from a trusted business partner.
Account-based marketing persona comes in the Create process of 3Cs of Digital Marketing, the initial research about your audience will help achieve your marketing goals. Our team will be happy to assist you to create ABM persona for your business, we are just a chat away…